The
North Carolina Division of Air Quality
issues forecasts for fine particulate matter year-round and ozone from March through October. Forecasts and discussions are updated each afternoon for the next three days, and are sometimes updated in the morning to reflect the latest ambient conditions.
This forecast was issued on Tuesday, June 6, 2023 at 12:16 pm.
This is an old forecast that is no longer valid.
Today's Air Quality Conditions
Currently, fine particulate concentrations are rising into the mid-to-upper Code Yellow range statewide. Current ozone concentrations are Code Green statewide with the exception of localized Code Yellow in the ridge top areas.
General Forecast Discussion
Smoke and elevated fine particulate concentrations transported down from Canadian wildfires have begun to creep into North Carolina from the north today along a frontal boundary. As this boundary continues to move southward, high fine particulate levels are expected to mix down to the surface before the boundary stalls along the southern edge of the state. A Code ORANGE Air Quality Action Day for fine particulate matter has been issued for the majority of North Carolina beginning at 12PM EDT today (Tues 6/6/23) through midnight tomorrow (Wed 6/7/23), with the EXCEPTION of the following counties: Robeson, Bladen, Sampson, Duplin, Lenoir, Beaufort, Columbus, Brunswick, New Hanover, Pender, Onslow, Carteret, Jones, Craven and Pamlico, which are expected to remain in the upper Code Yellow range. The status of the aforementioned counties will be re-assessed for tomorrow. No changes will be made today to the current ozone forecast. Stay tuned for additional details and updates in our afternoon forecast.
Extended Air Quality Outlook
The forecast Air Quality Index value for each pollutant represents the highest value expected within each county, so some areas and monitors may see lower values. We use the best information and techniques available to ensure the quality and accuracy of the forecasts we provide to the public. Note that ranges do
not
include the nine-county Triad region, which is covered by the
Forsyth County Office of Environmental Assistance and Protection
.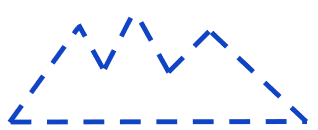 North Ridges
South Ridges
(Elevation > 4,000 feet)