Occasionally, meteorologists at the Division of Air Quality will send out an Air Quality Alert – What does that mean?
In our typical day to day, air quality levels generally remain in the Code Green to low Code Yellow range. Sometimes, meteorological conditions will support the formation of appreciable amounts of ozone or the transport of fine particle pollution (smoke, dust). In addition, when we see extensive controlled burning or wildfires, it can cause localized heavy smoke. These are some of the ways that air quality can rise into the Code Orange range, which means Unhealthy for Sensitive Groups.
Code Orange Threshold
When meteorologists expect the daily air quality index (AQI) for either ozone or fine particle pollution to reach the Code Orange threshold or higher in a given county, an Air Quality Alert will be issued. When this occurs, we coordinate with the county's local National Weather Service office to push the alert out over the weather wire, which you then see on news outlets or even on the weather app on your phone.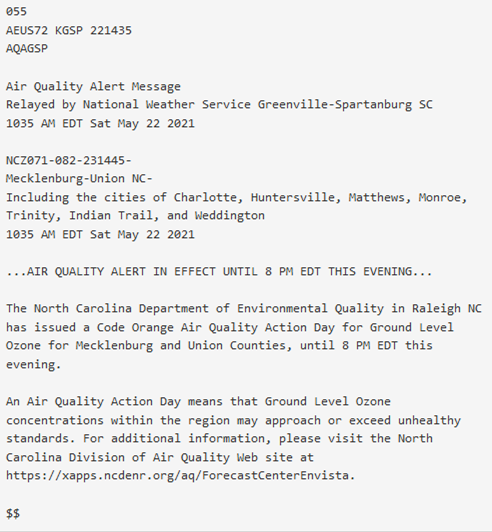 Air Quality Alert – Actions to Take
So, what does issuing an Air Quality Alert do? First and foremost, it informs the general public about air pollution levels and advises North Carolinians to take precautions to protect their health, such as reducing time spent outdoors or choosing to exercise at a gym or local community center. Additionally, when an Air Quality Alert is issued for a county, open burning is prohibited per NC Statute 15A NCAC 2D.1900. When an Air Quality Alert is issued, it also encourages folks to help curb their own emissions contributions, such as avoiding idling (i.e. sitting in drive through lanes, carpooling to reduce traffic, etc.) and using electric yard tools instead of gas (i.e. electric mowers, chainsaws, etc.).
Please check our forecast page (https://xapps.ncdenr.org/aq/ForecastCenterEnvista) for more details regarding what's happening with North Carolina's day-to-day air quality, including a written discussion with the details that inform our forecast. Also, you can follow us on twitter to stay up to date with the daily forecast and alerts (https://twitter.com/NCDAQ_Forecast).