Wildfires
Air Quality Awareness Week begins with a look at wildfires and smoke. A wildfire is a fire that is either unplanned or out of control that burns unchecked through combustible vegetation. Fires can grow and spread rapidly during dry, breezy weather conditions, which can hinder firefighting efforts. During periods of little rainfall and extended drought, vegetation can dry out which can elevate fire danger.
Wildfires in the western United States have become larger and more numerous in recent years due to this region experiencing an extended drought event. These large fires can cause damage to property and landscape, and lead to unhealthy air quality both locally and — if the fires burn long enough — across vast distances downwind.
Smoke
Elevated levels of fine particle pollution are often driven by smoke from small, local controlled burns as well as extensive, uncontrolled wildfires — how impactful these fire events are comes down to plume dispersion dynamics (see our June post). With the former, impacts are typically localized to areas immediately downwind of fire activity; however, extensive agricultural/controlled burning activities can result in regional smoke impacts. Extensive, uncontrolled wildfires can result in adverse air quality several states away as well.
In July of 2021, extensive wildfire activity in California and the Pacific Northwest resulted in the long-range transport of smoke, resulting in elevated fine particle pollution here in North Carolina and the issuance of an Air Quality Alert (AQA) across much of the state. Hourly fine particulate levels rose into the upper Code Yellow to low Code Orange range, with daily 24-hour AQI values reaching upper Code Yellow range across the state.
Wildfire Activity in North Carolina – 2016
Last November marked the fifth anniversary of the 2016 wildfires in western North Carolina. At the end of October 2016, the Tellico Fire began in Swain County due to human-caused activities and later merged with the Ferebee fire in Macon County. A couple days later, the Boteler fire began as the result of a lightning strike, and another fire sprung up in Cherokee. The Cliffside, Knob, and Maple Springs fires started several days later followed by the Party Rock fire by Lake Lure. Over the next few weeks, as periods of persistent atmospheric ridging set up over the southeastern United States, favorable fire weather persisted and several more wildfires began to spring up across the western portion of the state. Tennessee was also battling large wildfires towards the end of November — the Pigeon Forge and Gatlinburg fires started at the end of the month. Thankfully, by early December, rainfall helped to bring 20-plus fires under control that had burned more than 60,000 acres across western NC.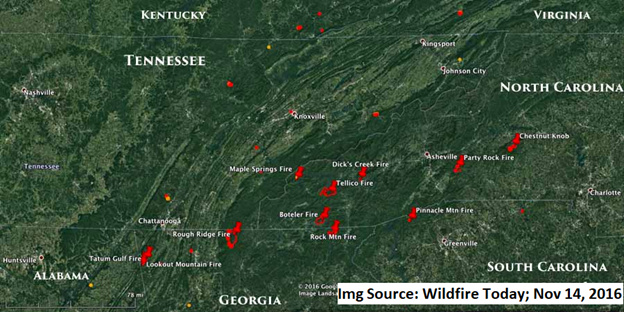 These fires led to several days with unhealthy (Code Orange to Code Red) air quality over parts of the Mountains, Foothills, and Piedmont. In fact, these fires led to some of the worst air quality observed in North Carolina in recent years.
Did you know that these events were the catalyst for our county-level air quality forecasting program? During the 2016 fires, our air quality forecasts were region-based, meaning forecasts for an area encompassed several counties. In counties where there were active fires, air quality was the most impaired immediately near and downwind of where burning was occurring. Due to plume dispersion dynamics, neighboring counties did not necessarily have the same impacts as those with active fires. However, our forecast system at the time only allowed for a region-based AQI forecast, so areas without much smoke or any active fires may have had a Code Red forecast with observations/verification that maintained within the Code Green or Code Yellow range.
Since then, we have converted to a county-based forecasting system. This allows for us to better inform the public of anticipated air quality conditions locally and allow for us to better illustrate an expected a gradient of poor air quality across a region. Additionally, this new system allows us to declare an AQA at the county-level, as opposed to an entire region being under an AQA for a Code Orange (or higher) event within a much smaller area encompassing, for example, only one or two counties.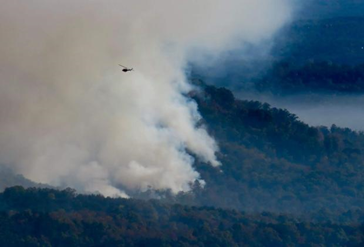 Be Aware and Be Prepared!
Unfortunately, wildfires are often caused by human activity (intentional or otherwise). Here are things you can do to help prevent wildfires, as well as resources to keep you informed about fire weather and air quality conditions.
Awareness
The first sign that there may be an elevated fire danger is when an area receives little rainfall, and the ground and vegetation are very dry. The National Integrated Drought Information System (NIDIS) is a multi-agency partnership that monitors drought conditions. You can see if your area is experiencing a drought by going to its drought monitoring website.
Another great resource to be aware of the conditions in your area is the Storm Prediction Center's Fire Weather Outlook. These nationwide outlooks are issued daily and forecast whether conditions are dangerous for burning activities.
At a more local level, National Weather Service offices put out two types of advisories when there is an elevated fire danger: a Fire Weather Watch and Red Flag Warning. A Fire Weather Watch indicates that there is the potential for dangerous fire weather conditions within the next 24-36 hours, where a Red Flag Warning indicates that there is potential for dangerous fire weather conditions within the next 12-24 hours. Dangerous fire weather includes a combination of warm temperatures, low humidity, and strong winds. Meteorologists at the Division of Air Quality coordinate with local National Weather Service offices to issue Air Quality Alerts as conditions warrant as well.
Another resource that is specific to North Carolina is the North Carolina Forest Service (NCFS). It has a dedicated website that contains daily situation reports regarding wildfire activity. It also has a fire response page that shows the status of its response to wildfires.
Lastly, the EPA has a Smoke-Ready Toolbox for Wildfires. The website provides additional information regarding smoke and health, information regarding current fires, information for health professionals, along with other resources.
Preparedness
When there are dangerous fire weather conditions, it's vital to be aware of fire safety. All burn barrels should be covered (if burning is even allowed at all). Do not throw cigarettes or matches on the ground or out of a moving vehicle — these can easily ignite dry grass. Any outdoor fires must be extinguished properly until everything is cool to the touch. Charcoal should be dunked in water until it is cold. NEVER leave a fire unattended, as sparks and embers can blow onto leaves or grass and ignite a quickly spreading fire. Additionally, if you are wanting to conduct open burning on your property, please see the NCDEQ open burning website for information regarding open burning safety, answers to frequent questions, and open burning rules and regulations.

If the air is smoky and hazy and you're curious about air quality conditions, the Air Quality Portal is a great one-stop shop! Here you can see the air quality forecast for your region, as well as real-time air quality conditions in the Ambient Information Reporter (AIR) tool. The AIR tool also shows the location of satellite-detected fires, as well as smoke plumes.